Trainers,
a new wave of EX Raid invites has been sent for an EX Raid taking place on January 31st! Congratulations to everyone who received an invite, but special congratulations to everyone that managed to trigger an EX Raid event using our comprehensive guide on how to trigger EX Raids.
Here's how things look like in relation to previous raids and invitation cycles:
This EX Raid is scheduled to take place 7 days after the previous raid (Jan 24th)
Today's invitations were sent 9 days after the previous invitation cycle (took place 14th Jan), confirming that invitations are sent 2 days before the closest upcoming EX Raid
It also seems that the 8-7-7-8 raiding schedule is now also confirmed, which brings us to the following table of potential future EX raid dates (credits to /u/rtyrty100, italic dates are confirmed as of the time of this writing):
Invitation sent out
For EX Raid on
Days since
previous EX Raid
Jan 14
Jan 24
8
Jan 22
Jan 31
7
Jan 29
Feb 07
7
Feb 05
Feb 15
8
Feb 13
Feb 22
7
Feb 20
Mar 01
7
Feb 27
Mar 09
8
Mar 07
Mar 16
7
Mar 14
Mar 23
7
To conclude, this is what we know, or better, think we know about the EX Raid system:
The system uses a rotation schedule that is based around a 30 day cycle:

an EX raid takes place on every 8th, then 7th, then 7th, then 8th day of the cycle
February / March calendar example (pass icon marks date when invites will be distributed, Mewtwo marks raid dates):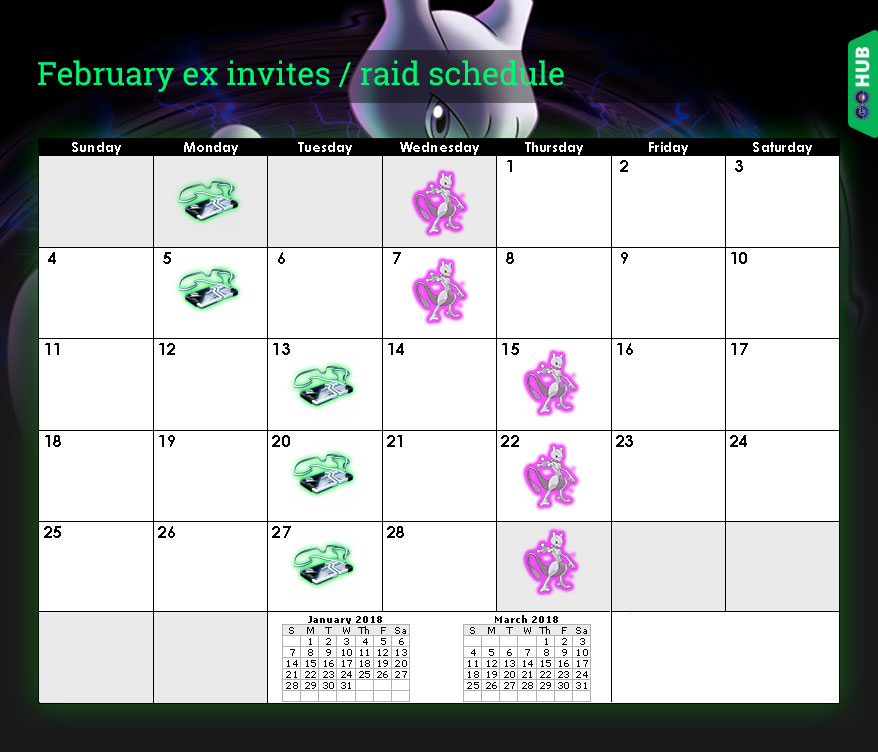 The invitation system works on a similar pattern, but follows a 10-9-9-10 rule, basically adding two days on each day of the cycle described above
Coincidentally, the invitation system distributes invitations for an upcoming raid two days before a previously scheduled raid takes place
The post EX Raid invites sent out for a January 31 EX raid, schedule and future dates speculation seems confirmed! appeared first on Pokemon GO Hub.